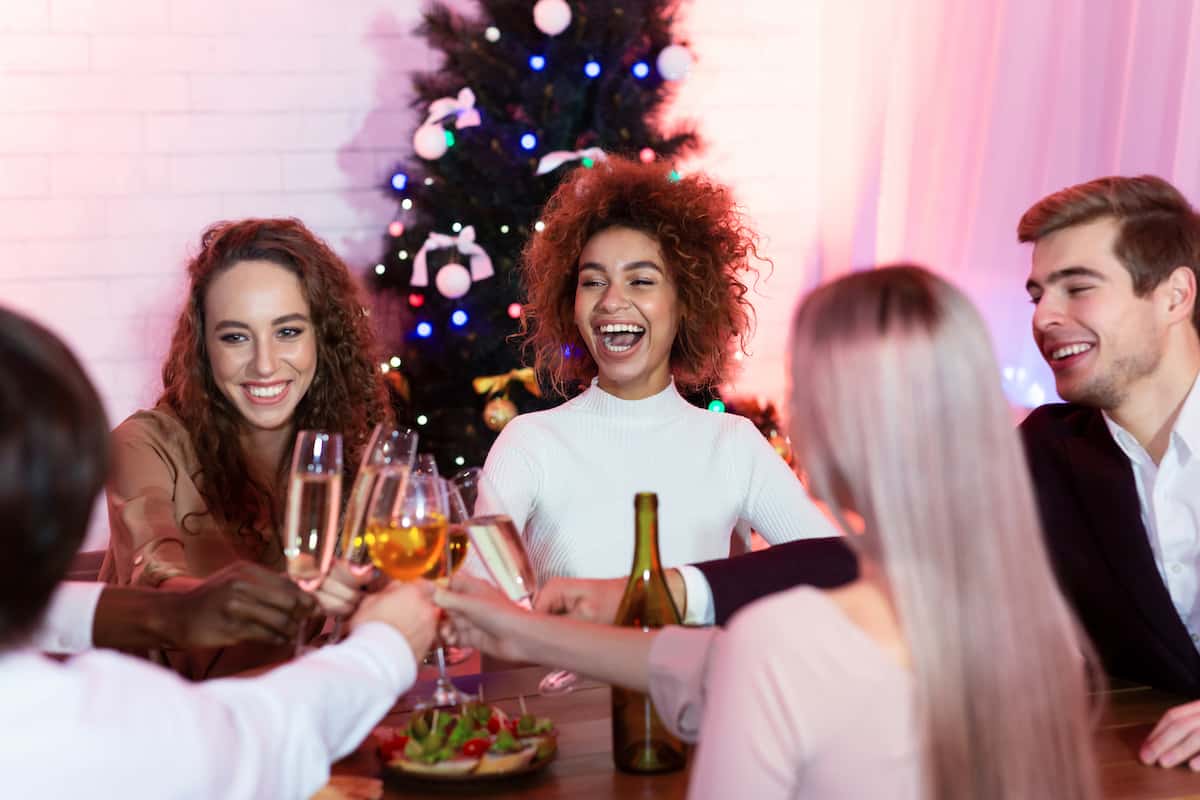 20 Tips, Tricks & Resources for Planning a Memorable Corporate Holiday Party
The holidays are hectic for everyone, including corporate event planners. You might feel a little overwhelmed if you organize your annual company holiday party this year. Never fear! With a little planning and attention to detail, you can pull off a holiday party that your boss and the entire staff will love. 
A corporate holiday party can be a great way to boost morale and show your employees that you appreciate their hard work.
The perfect company holiday party is filled with holiday cheer! That holiday spirit will last well into next year and make employees feel good about the company culture.
When Should You Start Planning a Corporate Holiday Party?
The earlier, the better!
Office holiday parties can take a lot of planning and coordination, so it's best to start as soon as possible. That way, you'll have plenty of time to iron out all the details and ensure everything goes off without a hitch. If you have a bigger company, you may need to look closer to the first or second quarter of the year to ensure that the spaces large enough to hold your event aren't already booked. Many venues will run specials in July to book their space for December.
How to Plan the Perfect Company Holiday Party
If you want to pull off an unforgettable company holiday party, include a team member with event planning skills to help you come up with company holiday party ideas and bring together your holiday party theme.
Here are some suggestions to get you on track.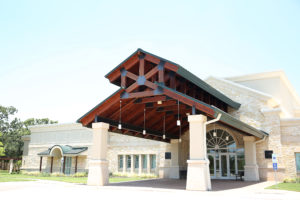 1. Choose the right venue 
When it comes to corporate holiday parties, size matters. After all, you want your venue to be big enough to accommodate all your guests but not so big that it loses that intimate feel.
If you're unsure how many people will attend, err on the side of caution and book a space that's a little larger than you think you'll need or, at the very least, offers flexibility. That way, you won't have to worry about overcrowding or guests feeling cramped. 
Looking for a venue in the Dallas Ft. Worth Metroplex? Reach out to us here.
2. Make a budget…and stick to it 
While it's important for your holiday party to be impressive, it's equally important to ensure you don't go over budget.
Before you start booking vendors or ordering decorations, sit down with your boss and figure out how much money you have to work with. Once you have a number in mind, do your best to stick to it. Remember, there are plenty of ways to throw an amazing party without breaking the bank.
RELATED: Corporate Holiday Event Ideas: Celebrate Your Team, Give Back To Your Community
3. Serve festive food and drinks
No matter what time of year it is, food and drink are always important considerations for any event. Try to serve festive and appropriate items for your corporate holiday party in a work setting. Decide if you will do a full meal or just finger foods. You can incorporate the festive theme with special drinks, desserts, and appetizers.
4. Get everyone involved with fun activities
One of the best ways to get everyone in the holiday spirit is to plan fun activities for them to participate in at your party.
If your venue allows it, set up a photo booth with props for guests to use or hire a caricaturist to do quick sketches of attendees. You could also set up some holiday-themed games or organize a gift exchange.
The possibilities are endless! Interactivity will encourage attendees to engage, allowing employees a great way to get to know one another outside the office.
Make sure whatever activity you choose is appropriate for your company's culture and the overall tone of your event.
RELATED: 7 Unique and Memorable Corporate Holiday Party Ideas To Plan Now
5. Hire a professional photographer
A corporate holiday party is a great opportunity to get fun and festive photos of your employees to use in future marketing materials. These images would also make for a fun gift idea!
6. Make it a team effort
Planning a corporate holiday party is a big undertaking, so it's important to delegate tasks and put together a team of people you can rely on to help you out.
Enlist the help of employees from different departments to take care of different aspects of the party, such as decorating, organizing activities, or handling logistics. This will not only make your job easier, but it will also help ensure that everyone feels involved in the event.
7, Have a backup plan 
No matter how well you plan, there's always a chance something could go wrong on the day of your corporate holiday party. That's why it's important to have a backup plan for everything, from transportation to the venue.
For example, if you're worried about bad weather, have a contingency plan for moving the party indoors. And if you're using a corporate space that's not normally available after hours, have a backup venue just in case.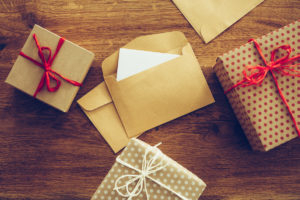 8. Promote the event in advance 
The sooner you start promoting your corporate holiday party, the better. This will give employees time to clear their schedules, make arrangements, and help build excitement for the event.
There are several ways to promote your party, from email invitations to posting flyers around the office. You could create a corporate holiday party website or social media event to generate interest. If you do themes for your party, have a theme reveal as an event a couple of months beforehand!
When sending out invitations, include all the important details, like the party's date, time, and location. You should also include a dress code if there is one. If you are allowing a plus one, be sure to add that to the invite as well.
9. Set a dress code 
Unless your corporate holiday party has a specific theme that requires a certain type of attire, it's a good idea to set a dress code. This will ensure that employees know what to wear and helps set the tone for the event.
For example, if you want your party to be more casual, you could ask employees to dress in business casual attire. Or, if you're looking for something a bit more formal, you could ask employees to wear cocktail attire.
10. Gifts or no gifts?
One of the big questions you'll have to answer when planning your corporate holiday party is whether or not to allow gifts. On one hand, gifts can add to the event's festive atmosphere. On the other hand, they can also be a hassle, and not everyone may be able to afford them. (Alternatively, you could make it secret Santa style – see below). 
Ultimately, whether or not to allow gifts is up to you. If you decide to allow gifts, be sure to limit how much employees can spend. This will ensure everyone is on the same page and that no one feels left out or pressured to spend more than they can afford.
Fun Activities for Your Office Holiday Party
11. Have a themed party 
Corporate holiday parties are often stuffy and boring, so why not shake things up with a fun theme? You can go with a traditional theme like "Winter Wonderland" or "A Charlie Brown Christmas," or get creative and create your own unique theme. Your team will appreciate the extra effort.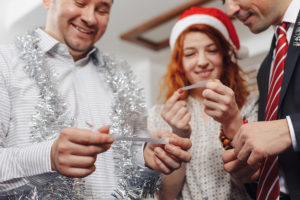 12. Secret Santa gifts are always fun
This is a classic holiday tradition that's always a hit.
Make things more interesting by putting a corporate twist on them. For example, you can have your team draw names from a hat and give them a budget to buy their Secret Santa a corporate-themed gift. This way, everyone will have something to open at the party, and it'll be a fun way to get everyone in the giving spirit.
13. Do something charitable 
The holidays are a great time to give back, so why not incorporate some philanthropy into your corporate holiday party? You can collect donations for a local charity or even organize a volunteer activity for your team. This is a great way to show your employees that you care about more than just profits, making them feel good about working for your company.
TIP: Did you know that profits of all events held at The Bowden will benefit The Greater Keller Women's Club Foundation, a 501(c)3 non-profit organization? When you host your event at The Bowden, you are helping to support this mission and improve the lives of those in need. Learn more here.
14, Make it an ugly sweater party
This is a great way to get everyone in the holiday spirit (and have a good laugh too). You can award prizes for the ugliest sweaters for making things even more fun.
15. Include a hot cocoa bar
What's more festive than a steaming mug of hot cocoa?
Set up a hot cocoa bar with all the fixings— marshmallows, peppermint sticks, whipped cream, etc.— and let your team mix and match until their heart's content.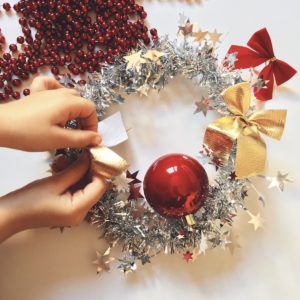 16. Set up a DIY ornament-making station
Get everyone into the holiday crafting spirit by setting up a station where they can make their ornaments to take home. You can provide all the supplies or let each team decorate their mini Christmas tree.
17. Consider a gingerbread house competition
Sure to get your team's creative juices flowing, a gingerbread house competition is both fun and festive.
Provide all the supplies needed to build gingerbread houses and let teams go to town! Be sure to have prizes for the best houses.
18. Self-source holiday music with Karaoke
Karaoke offers a fun twist to a traditional holiday celebration, especially when you pre-load it with holiday songs!
Rent a karaoke machine, set it up on the stage at your event venue, and let everyone unleash their inner rockstar. 
This holiday party idea is guaranteed to be a night your team will never forget.
19. Get Virtual
'Tis the season to embrace the entire team or family, and for some who cannot attend in person, consider adding a virtual holiday party element.
All these games or events can be played at the event center location, and those remote attendees can participate virtually.  Utilize technology to bring everyone together for a fun experience.
20. Hire a local band or DJ
Live music always makes for a good time. Whether you hire a local band or DJ, your team is sure to enjoy themselves dancing the night away.
Corporate Holiday Party Resources
Now that you've got some holiday party ideas, it's time to start planning! Here are some additional resources to help.
For invitations:
For party favors:
No matter what kind of corporate holiday party you decide to throw, one important thing to remember: HAVE FUN! This is supposed to be an enjoyable event for you and your team, so don't stress too much about making everything perfect—just relax and enjoy yourself! After all, 'tis the season!