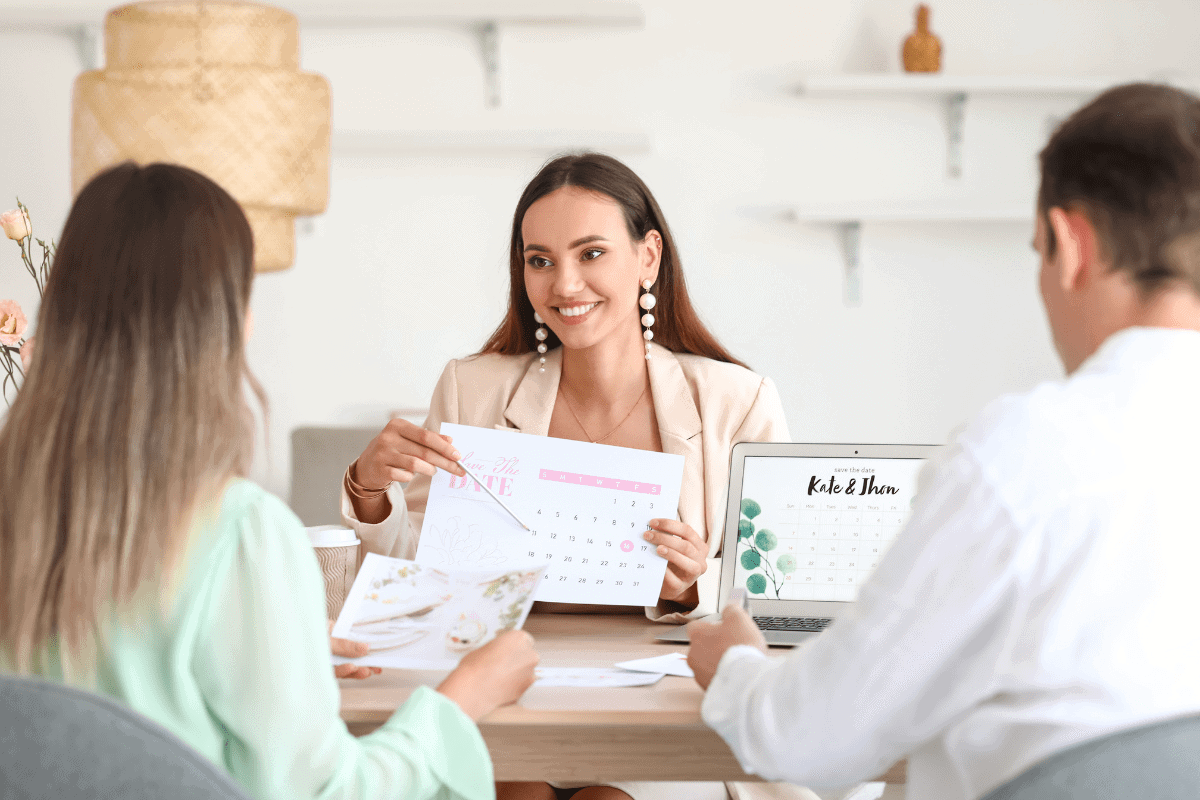 Why Every Engaged Couple Should Consider Hiring a Wedding Planner
Congratulations on your engagement! Now the fun begins… planning your wedding. 
This is truly a special time in your lives, and while there's a lot of excitement surrounding the journey to the altar, there's also a lot of decision-making and planning. 
You may be asking yourselves, "Do we really need to hire a wedding planner?" While it's entirely possible to organize your dream wedding without one, there are some compelling reasons to consider bringing a professional into the fold.
7 Reasons to Hire a Wedding Planner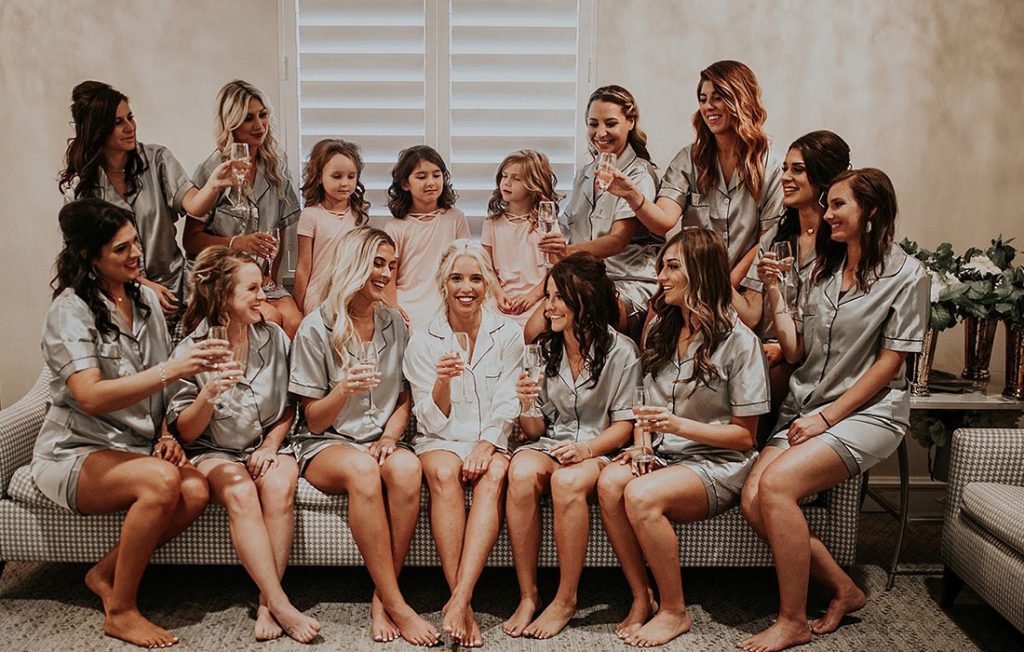 1. Hiring a Wedding Planner Will Reduce Your Stress
Planning a wedding is a beautiful and fun process, but it can also be overwhelming. 
With countless choices to make – from picking a venue to selecting a napkin fold – the details can quickly become daunting. A wedding planner can help you easily navigate these choices, ensuring that you remain focused on the joy of the occasion rather than getting lost in the details.
2. A Wedding Planner Will Help With Budget Management
Weddings can be pricey, and losing track of expenses is easy. 
Wedding planners are skilled at working within budgets and can help you create a realistic budget based on your vision and priorities. They have established relationships with vendors and can negotiate contracts on your behalf, potentially saving you money in the long run. 
Additionally, they can assist in tracking expenses, ensuring that you stay within your budget.
YOU MAY ALSO ENJOY: Love Elevated: Creating Your Perfectly Personalized Wedding Day
3. Hire a Wedding Planner: Save Valuable Time
Between work, social commitments, and wedding planning, there's a lot on your plate.
Planning a wedding requires a significant investment of time and effort. Hiring a wedding planner saves valuable time that would otherwise be spent on research, vendor coordination, and logistical details. With an expert handling these tasks, you'll have more time to relax enjoy the process, and focus on cherishing the special moments leading up to your wedding day.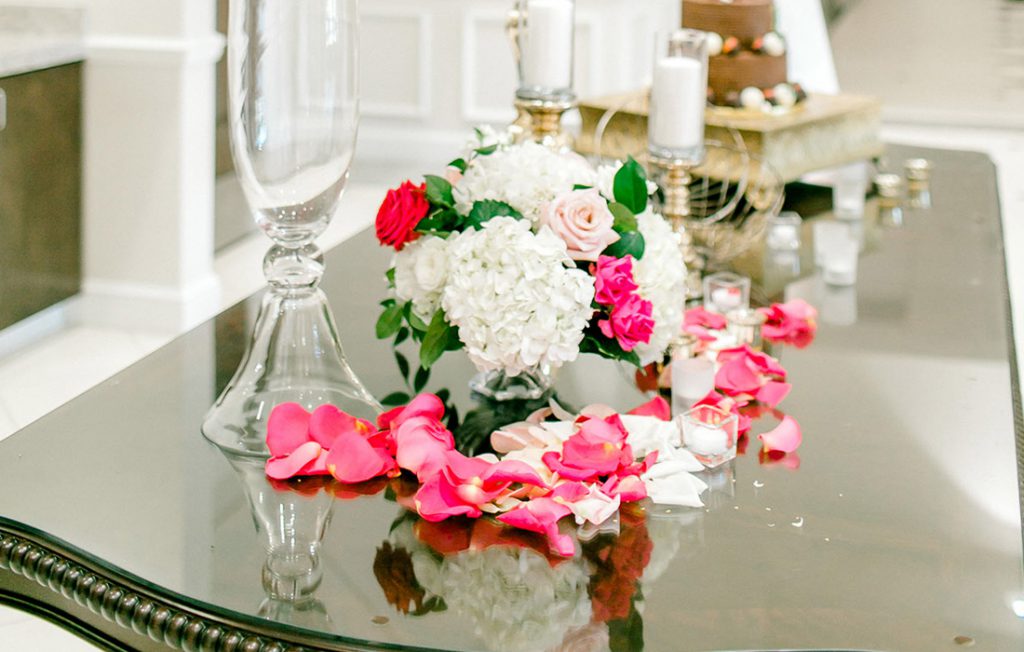 4. Gain Valuable Insider Knowledge
Wedding planners are in the business of weddings! 
Wedding planners bring a wealth of experience and expertise to the table. They understand the wedding industry in-depth, including the latest trends, best vendors, and ideal venues. Their knowledge can be invaluable in helping you make informed decisions and creating a truly createble wedding experience. 
They've seen it all, from the newest innovations to timeless traditions. Their expertise allows them to provide insight and ideas you may not have considered.
YOU MAY ALSO ENJOY: How to Utilize Social Media When Supporting Charity at Your Wedding
5. Access to Trusted Vendors
It's all about who you know, right? 
With their extensive network of trusted vendors, wedding planners can connect you with the right professionals who align with your style and budget. They can also provide valuable insight and assist with negotiations, ensuring the best value for your investment. They can handle the coordination and communication with vendors throughout the planning process, ensuring that everyone is on the same page and that everything runs smoothly on your wedding day.
If the venue is full-service, like The Bowden Events and Weddings, there may be a preferred vendor list they will give you or your planner. 
That alone provides peace of mind as you know these vendors have worked this venue before and perform at a level that meets or exceeds the expectations of The Bowden and their guests. 
You'll also have peace of mind knowing the vendors are familiar with the location, the policies, and the staff.
YOU MAY ALSO ENJOY: Wedding In Six Months? Don't Sweat It – These Tips Will Help!
6. Day-of Coordination
Imagine your wedding day where all you need to do is show up, look dazzling, and enjoy. A planner can make this a reality, taking care of all the day-of logistics, ensuring everything runs smoothly, and managing any unforeseen issues that arise.
Unexpected challenges can arise during the planning process and on the wedding day itself. A wedding planner is experienced in troubleshooting and can handle any issues that may arise, allowing you and your partner to relax and fully enjoy your special day without worrying about the details.
You Should Also Consider a Day-Of Coordinator
Even if you choose not to hire a wedding planner, you will want a day-of bridal coordinator who is attentive to you as the bride and to the details that matter most. 
A day-of coordinator is not a job for your freshman roommate who didn't quite make the bridal party cut or your Great Aunt Edna, who needs to feel important. This job is for someone who knows weddings and isn't part of your celebration. Aunt Edna can't keep the schedule on track if she's oohing and aahing over the menu, the decor, the dress, and the sparkle of your ring!
On your wedding day, a day-of coordinator provided by the venue can be an invaluable resource with or without having an outside wedding planner. 
Much like a day-of planner, a venue's day-of coordinator, referred to as a bridal attendant, will be the bride's right-hand lady. She will ensure all personal items and touches you put into the wedding are executed and will be available for any needs throughout the day. 
She will help with bustling the dress, lining up the wedding party, and ensuring that the bride and groom always have something to drink and eat if needed. If she is in conjunction with an outside wedding planner, she is merely an extension of the planner, helping in any way she needs. 
Venues like The Bowden also provide a venue coordinator for the day. This complimentary service is provided at no extra charge to ensure a smooth day. Your venue coordinator will manage the details of the day and keep the outside vendors on schedule and in place. 
This person is working from the venue's perspective to ensure a flawless day for you. Your venue coordinator will be present to oversee the setup, manage the timeline, and coordinate with vendors and your planner.
7. Peace of Mind
Ultimately, the presence of a wedding planner gives you peace of mind. 
By enlisting the help of a wedding planner, you can relax and enjoy the journey, knowing that you have a dedicated professional by your side who will help create a remarkable and stress-free wedding experience.
While it's certainly possible to plan a wedding without professional assistance, hiring a wedding planner can make the journey smoother, more enjoyable, and even cost-effective.
We suggest finding a venue with a day-of coordinator to complement your wedding planner. 
This can also balance professional assistance and cost-effectiveness if you can't afford a wedding planner. 
The Bowden Events and Weddings is this type of venue, providing a day-of coordinator who brings specific benefits such as seamless coordination due to having familiarity with the venue, venue-specific expertise, vendor recommendations, and knowledge of policies and procedures. 
Additionally, having a day-of bridal attendant ensures you have dedicated support on your wedding day, allowing you to relax and enjoy your celebration.
Your wedding day is a once-in-a-lifetime milestone filled with treasured moments, and dreams come true. When considering the possibilities for your special day, take a moment to appreciate the valuable role a wedding planner can play in bringing your vision to life.
If you would like suggestions for Wedding Planners in the DFW area, please reach out to us!
We send you our best wishes as you embark on this wonderful journey together!

Profits of all events held at The Bowden will benefit The Greater Keller Women's Club Foundation, a 501(c)3 non-profit organization. The Bowden in partnership with GKWC is committed to building community by providing educational scholarships to deserving local area high school students, donations to local non-profit organizations helping families in need and in volunteering countless hours of service.  When you host your event at The Bowden, you are helping to support this mission and improve the lives of those in need.