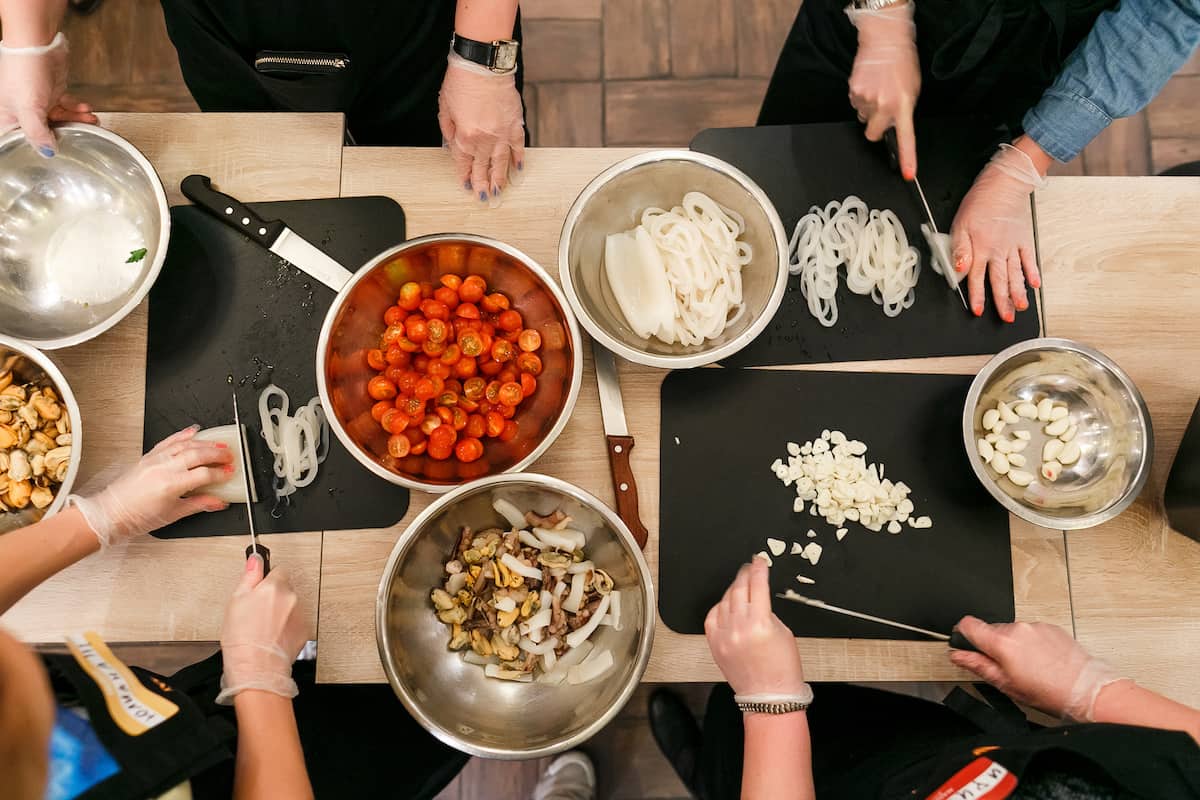 Creative Immersion Ideas for Your Next Offsite Meeting
Improve the ROI of your next offsite meeting by offering immersion classes for increased engagement and creativity.
In the fresh new year of 2021, it is time to start planning your strategy sessions and meetings. If you are considering an offsite meeting, we have a few suggestions to make it an unforgettable success for everyone who attends. While the goal of business meetings is to learn, strategize, and connect as a team, that does not mean that the event must be dull and lifeless. As a matter of fact, studies show that hosting a well-thought-out meeting offsite can add creativity, build relationships, and boost morale exponentially more than gathering in the company conference room.
Hosting Creative Offsite Meetings
Have you ever been to a meeting where you felt like you were just sitting listening to someone carry on, and you couldn't ever fully engage? Maybe the only breaks were for a quick lunch or snack, and then you were back to sitting in uncomfortable chairs listening to someone else and praying that the coffee helps keep you awake? 
At The Bowden, we want to help you create an atmosphere of creativity for your next meeting, where your attendees are engaged and you have the platform to inspire participation. We have several creative immersion activity options listed below and encourage you to get creative with your plans. 
Hosting your offsite meeting at The Bowden is a great place to start. Our large facility can safely host up to 550 people. With our advanced sanitation practices and our grand space, you can host your meeting in a location where everyone will feel comfortable while staying safe, yet exhilarated. 
RELATED: How To Host a Thriving Midweek Event
Why Offsite? 
Creativity
Allowing employees a change of scenery can cause a real boost in their creativity. When you host a meeting in your usual conference room, people tend to fall into a rut, and with that rut come mental barriers that inhibit creativity. If you are looking for everyone to dig deep and help you strategize, make plans, or look for creative solutions to problems, we suggest you plan an offsite meeting. 
Focus
Like creativity, sometimes we need a change of scenery to get our minds in their best state for working. Hosting a meeting in a new location will allow everyone to break through mental barriers and truly focus on the task at hand. 
Face to Face Time
Networking is challenging through the internet. In an era of Zoom meetings and phone calls, team members are not getting the chance to create meaningful dialogue and forge purposeful relationships. Face to face time provides the opportunity for your team to connect deeper and create a bond that lacks when you have the limitation of only talking through a computer screen. 
Involvement
If you have been hosting meetings via Zoom or another online platform, where you might feel input is limited and participation is lacking,  (that awkward silence is a motivation killer) hosting a meeting where everyone has the opportunity to be in the same (socially distanced) room and connect with each other can provide just the boost needed to energize the room and ultimately increase the participation level. 
How to add creativity to your next offsite meeting
When looking for an immersive experience to offer at your meeting, consider introducing an opportunity to immerse your team in an activity that encourages creativity while learning something new. You can be as imaginative with it as you would like. We have a few suggestions here, but the possibilities are endless. 
Artistic Hand-Made Jewelry
Bring in an artist that is passionate about creating artistic jewelry and teaching others how to do the same. Everyone either loves jewelry or knows someone who would appreciate it as a gift.  This is a crowd favorite that is a fun project that allows them to learn a skill while also giving them a tangible item that they can take with them to remember their special event for a long time.  
Clay Art
If your team does not mind getting a little messy, working with clay would be a fun option and is sure to inspire laughter and creativity! Sharing their artwork with others and seeing what all their co-workers created is a real bonding opportunity.  A coffee mug for the office, a favorite bowl or even a vase would be something they could adorn their desk or office with reminding them of the meeting for years to come. 
Cooking Competition
There are several exciting options that come along with cooking, each inspiring teamwork, creativity and even a little healthy competition! 
Mystery Box: Each team is given a mystery box with several ingredients. Every team receives the same ingredients with no recipe or direction.  This is where the imagination flows, and the team works together to create their own special dish. Finally, the chef gets to taste and judge each creation. Prizes could be given to award the favored dish.  
Cooking Competition: Chef would put together a well-thought-out menu and cooking demonstration of the meal to the entire group.  Next, the group is divided into teams.  Each team would be assigned a course to then create on their own: Example: Team one will be responsible for the first course, Team 2 will be responsible for the second course, and so-on.  Watch the teamwork and creativity flow and the bonding follow.    In the end, again let the chef decide who put together the most delicious course and award prizes if you choose.  
Cooking Class Demo: Chef prepares a delectable menu with his culinary team and demonstrates the how-to and special behind the scenes tips and tricks of the trade.  Specializing in a specific country or region can be extra fun.  After the group watches the creation, they enjoy the delicacies of a meal served by the culinary team.  You would be amazed how much more delicious a meal can be when watching it prepared in front of you while smelling all the aromas and learning about the special ingredients and their origins along with way. Add a little wine to enjoy during the demo and dinner and watch the evening come together with your favorite music playing in the background.  From the country of honor of course. 
How we give back
At The Bowden, our heart and purpose is to invest back into our community. By booking with us, you are not only guaranteed a large space to host your meeting safely, but you are also investing back into our community and helping those in need. Profits of all events held at The Bowden will benefit The Greater Keller Women's Club Foundation, a 501(c)3 non-profit organization. In partnership with GKWC, The Bowden is committed to building community by providing educational scholarships to deserving local area high school students. Donation to local non-profit organizations helping families in need and in volunteering countless hours of service. When you host your event at The Bowden, you are helping to support this mission and improve the lives of those in need. 
Hosting an offsite meeting is a great way to inspire creativity, productivity, and camaraderie in your team. At The Bowden we can help you host your meeting in the safest manner possible while ensuring that it is an unforgettable experience for everyone who participates.