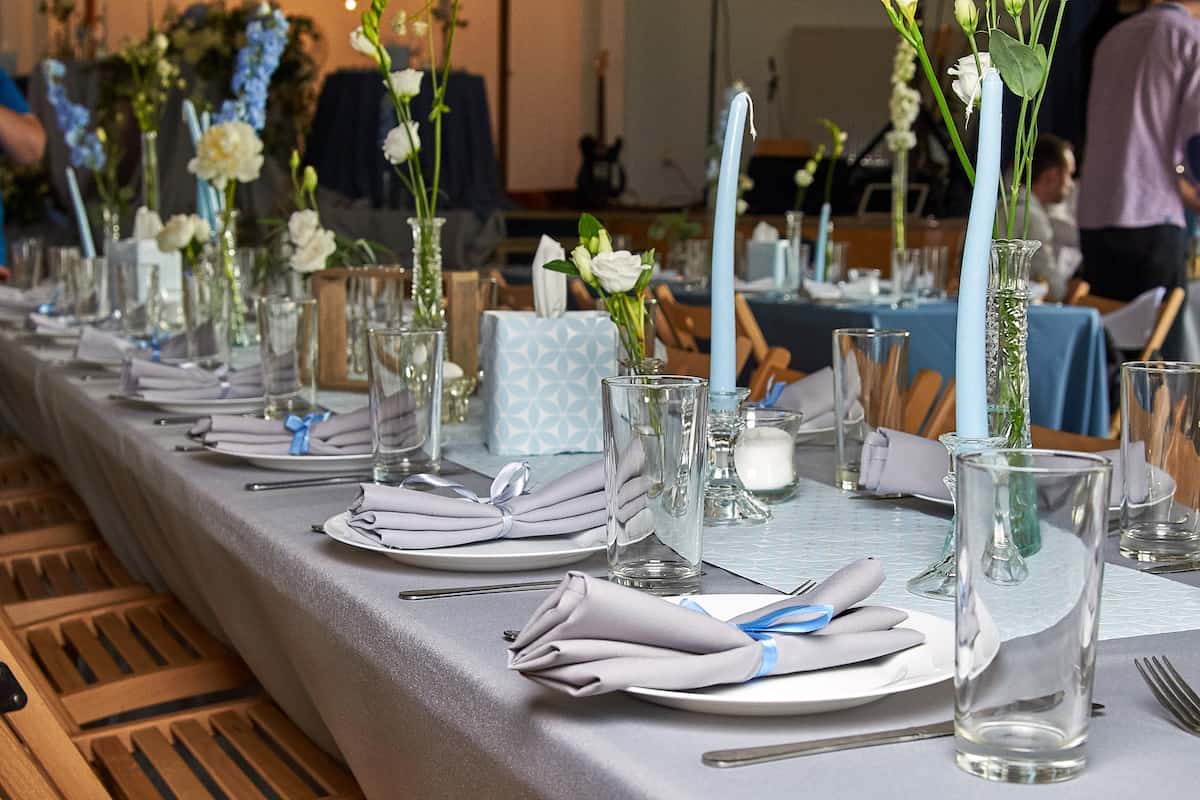 4 Steps for a Stress-Free Bar Mitzvah or Bat Mitzvah
A bar mitzvah or bat mitzvah is an important milestone in any Jewish person's life. It marks their transition from childhood into adulthood; they can now take part in rituals like morning prayers known as Shacharit (usually done at synagogue every weekday), among other traditions. The Jewish religion carries these traditions for generations, so they have deep meaning.
Here are 4 Steps for choosing the right venue for your bar or bat mitzvah in Dallas / Ft. Worth Metroplex.
1. Choose a venue that can provide all of your specific event needs and services in one fell swoop like:
An ample enough space to spread out
An onsite kitchen, chef, and banquet staff
Quality tables, chairs & linens
Onsite event coordinator to work with you throughout the event
Audiovisual equipment available for your use
2. Find a venue that has easy access for all of your guests to attend.
A centrally located venue that has easy access and ample parking makes everyone's life easier.
3. Choose a venue that has a talented chef that can create a specialized menu that is sure to honor your culture.
Feel free to interview the chef and ask questions that are important to you, like what recipes they recommend or have made in the past, is the kitchen Kosher, etc. If they are unfamiliar with your particular choices for dishes, ask if they are willing to try using your recipes. Most chefs love their craft and look forward to experiencing new things and learning new traditions.
4. Select a venue that knows the specific needs of a bar/bat mitzvah event.
What traditions are important to you? Once you know how you would like the event to proceed, ask the planners at the venue if they can work with you to achieve your goals. If they have planned a bar/bat mitzvah in the past, ask how they could accommodate and successfully host. You can get excellent insight simply by talking with the planner.
Planning a Bar/Bat Mitzvah
We understand that planning an event of this magnitude is a lot more comprehensive than our quick list would suggest. This tradition is steeped in education and culture that helps celebrate your child's passage into the rites of Judaism.
At The Bowden, we work with cultures worldwide to create events that honor and stay true to their traditions. Our staff loves to use what they have learned to make every event spectacular and culturally sound. Furthermore, our giveback program (run through the Greater Keller Women's Club Foundation) was created to benefit community non-profits, meaning your bar/bat mitzvah helps support community members in need as well.
If you are planning a bar mitzvah or bat mitzvah in the Dallas/Fort Worth area, we would love to help you plan a memorable and traditionally sound event. Reach out to see how we can assist.

Profits of all events held at The Bowden will benefit The Greater Keller Women's Club Foundation, a 501(c)3 non-profit organization. The Bowden in partnership with GKWC is committed to building community by providing educational scholarships to deserving local area high school students, donations to local non-profit organizations helping families in need and in volunteering countless hours of service.  When you host your event at The Bowden, you are helping to support this mission and improve the lives of those in need.