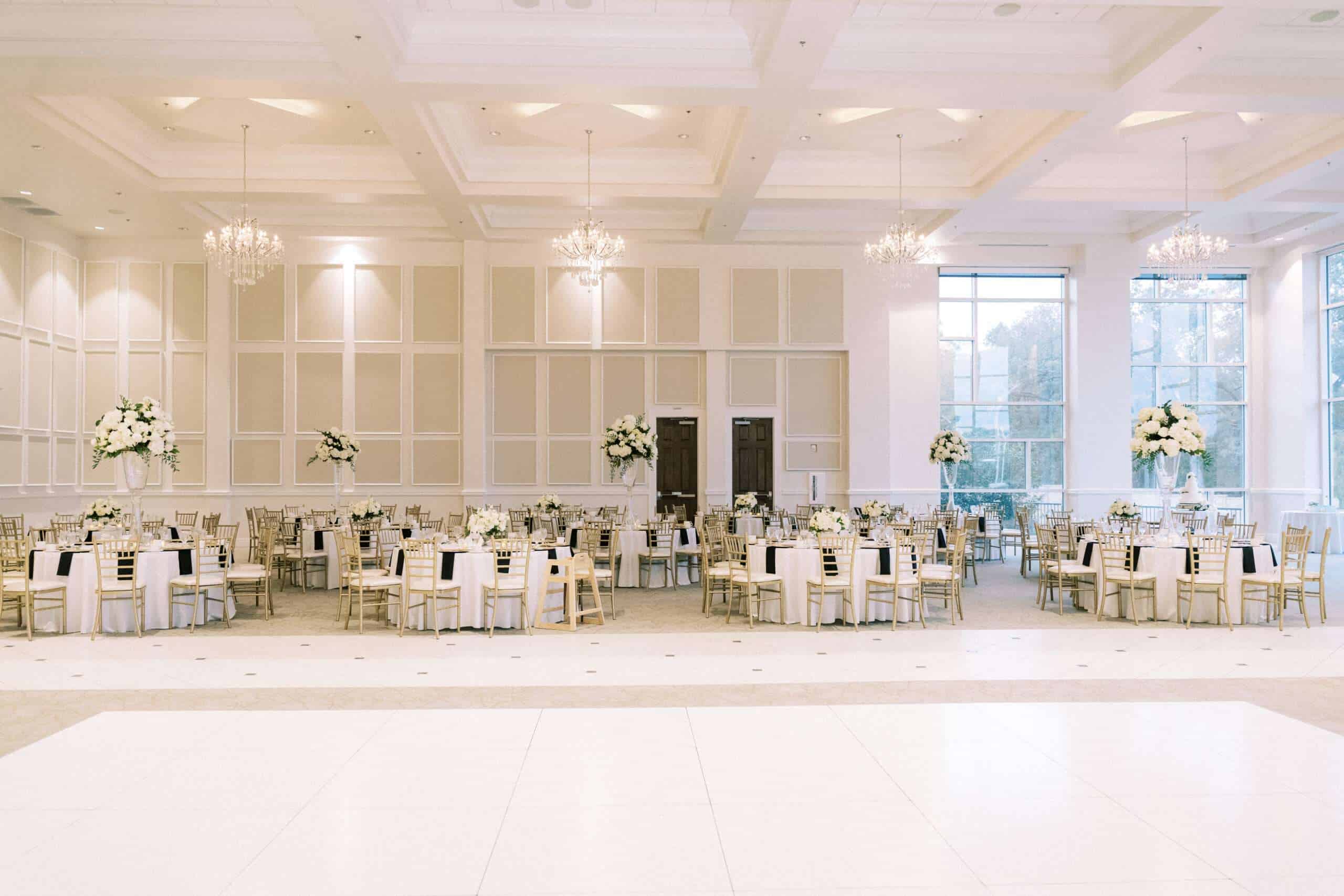 Event and Wedding Venue Terminology: A Guide for Couples
Planning a wedding or big event can be filled with a whole new world of terminology to navigate as you're making decisions about each detail. Understanding the vocabulary will help you make an informed decision on everything from the smallest detail to the largest – like selecting the perfect venue. To help you make an informed choice and better understand your options, we've put together this guide on common event venue terminology. Here are 16 top words you will hear during your planning process:
During Contracting:
Peak and Non-Peak Days:
Peak dates are dates that are most popular for that venue so they will have a higher minimum price point a non-peak, or off-peak date. If you are not set on a specific date, you may find yourself able to save thousands of dollars by just moving to a Friday or Sunday or even to the next month.
Rental Duration and Site Fee:
The rental duration specifies the timeframe during which you have access to the venue. Normally the end time is when all vendors and items must be cleared out, not necessarily the end of the party. The site fee is the cost of reserving the venue for your chosen date and time. Check different days of the week or off-peak months to see what pricing works best for you.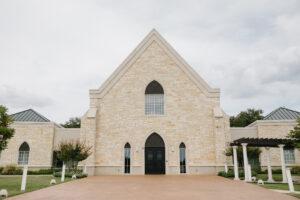 Wedding Package:
Many venues offer wedding packages that bundle services and amenities, making the planning process more manageable and sometimes even less expensive. These packages can include catering, decorations, and audiovisual equipment, simplifying your decision making. Check out The Bowden's packages here!
Food and Beverage Minimum:
The Food and Beverage minimum is the minimum amount of money you will be responsible for spending at your event. Make sure you clarify what, if any, type of food or drink is not included. Most places have a set minimum, but it could be changed based on peak and non-peak days.
Catering:
Catering is the provision of food for events, meetings, or gatherings. Some venues are full service, providing catering from an expert culinary team dedicated to the venue, such as the Bowden events and weddings. In this case, external catering is rarely allowed as the on-site team is best suited to serve you and your guests. An on-site chef also helps alleviate the risk of running out of food, the caterer not showing up, and other items being forgotten. Venues that are not full-service locations will require you to secure your own catering vendor who will transport food and beverages from their prep facility to your venue.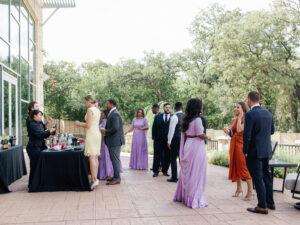 F&B (Food and Beverage):
A department within the hospitality industry responsible for managing the food and beverage services, including restaurants, bars, and catering. Can also refer to just the food and beverage that is ordered for your event.
All-Inclusive:
A type of venue or package that includes meals, drinks, and some or all amenities in the overall cost. Some venues will even have the option to include other vendors such as floral, DJ, and cake.
Capacity:
Every venue has a maximum capacity, which represents the number of guests it can comfortably accommodate. It's crucial to stay within this limit to ensure a comfortable and enjoyable experience for everyone. When choosing a location, make sure they have space for all that you are envisioning with room to grow. You don't want to be stuck in a place that has the exact amount of space for your people or you may find yourself running out of room when you add a dance floor or a stage.
Planning Spaces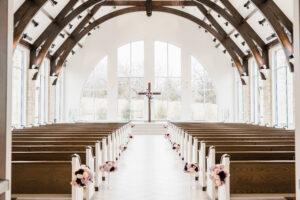 Ceremony Space:
The heart of your wedding day, the ceremony space, is where you and your partner will say your vows and exchange rings. It can be anything from a picturesque garden to a charming chapel. When touring venues pay special attention to this area, as it sets the tone for your entire celebration. Be mindful of the weather at your location. If you want an outside woodsy location in Texas, look for venues that have a space with floor to ceiling windows to see the outside without the elements interfering with your and your guests' comfort.
Cocktail Hour:
Following the ceremony, the cocktail hour provides guests with drinks and appetizers while the newlyweds may be taking photos. It's a great time for guests to mingle and enjoy a relaxed atmosphere. It doesn't mean you have to have alcohol at that time of the event, but it is good to have some sort of drink and food option for your guests while they are waiting.
Reception Area:
After the ceremony, the reception area is where the party begins. It's where guests will dine, dance, and celebrate your love. Some venues offer separate spaces for the ceremony and reception, while others provide a versatile area that can transform seamlessly from one to the other.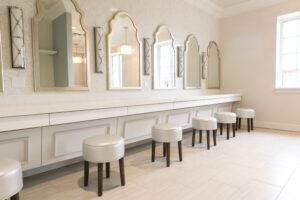 Bridal Suite and Groom's Room:
A bridal suite and groom's room are designated spaces for the bride and groom and their wedding party to prepare and relax before the ceremony. These areas are essential for getting ready and taking a moment to gather your thoughts before the big event.
Meeting Space Layouts:
There are many different configurations for setting up meeting rooms or event spaces, such as theater style, classroom style, U-shape, banquet style, or boardroom style. Theater style indicates chairs in rows, facing the same direction. Classroom style is narrow tables with chairs on one side facing the same direction. U-shape indicates tables are set up in a u-style where everyone can see each other and people can walk down the middle of them. There can be chairs on only one side or both sides. This is a popular style of head table for wedding parties.  A boardroom layout consists of connecting tables with seating on all sides so participants face each other.  Banquet style is round tables, typically either 60" or 72" in diameter. Sixty-inch rounds can comfortably hold eight people, while 72" inch rounds, which the Bowden offers, can hold up to 10 people comfortably and 12 people in certain instances.
Dance Floor and Up-Lighting:
The dance floor is where you and your guests will dance the night away. Dance floors can be a vary in size. They are normally 3×3 sections that combine to make the full dance floor. Ask your venue what type they use. Up-lighting is colored or adjustable lighting used to enhance the ambiance and decor of your reception space.
Venue Coordinator and Preferred Vendor List:
Some venues provide a venue coordinator to assist with logistics and coordination on your wedding day. This is not a wedding planner. The venue coordinators are there to make sure that the spaces are set up, the banquet staff is ready to serve, the food is on time, and to help facilitate activity between the planner and the venue. Many venues, like The Bowden Events and Weddings, have a bridal attendant you can hire for your "day of" planner who will help with the more hands-on items on the wedding day if you don't have a planner.  They may also offer a preferred vendor list, recommending trusted photographers, florists, and DJs who have been to their location and know the rules, layout and produce a good product.
Banquet Event Order (BEO):
The BEO is a document that details the specific requirements and expectations for a banquet or event, including the date, time, location, menu, setup, and other important details. It will have a timeline on it to make sure everyone knows how you want the day to go. Make sure you supply this to your catering team when they need it, so they have the appropriate staff scheduled. The BEO will also include a floor plan that will also lay out how you want the room set up.
As you embark on your wedding venue search, understanding these common wedding venue terms will empower you to make informed decisions and ensure your special day is everything you've dreamed it will be. Remember that each venue is unique, so don't hesitate to ask questions and clarify any terminology you may find confusing. With the right knowledge and a clear vision, you'll find the perfect wedding venue to create lasting memories of your big day. Let us know if we can answer any questions for you about the Bowden events and Weddings.