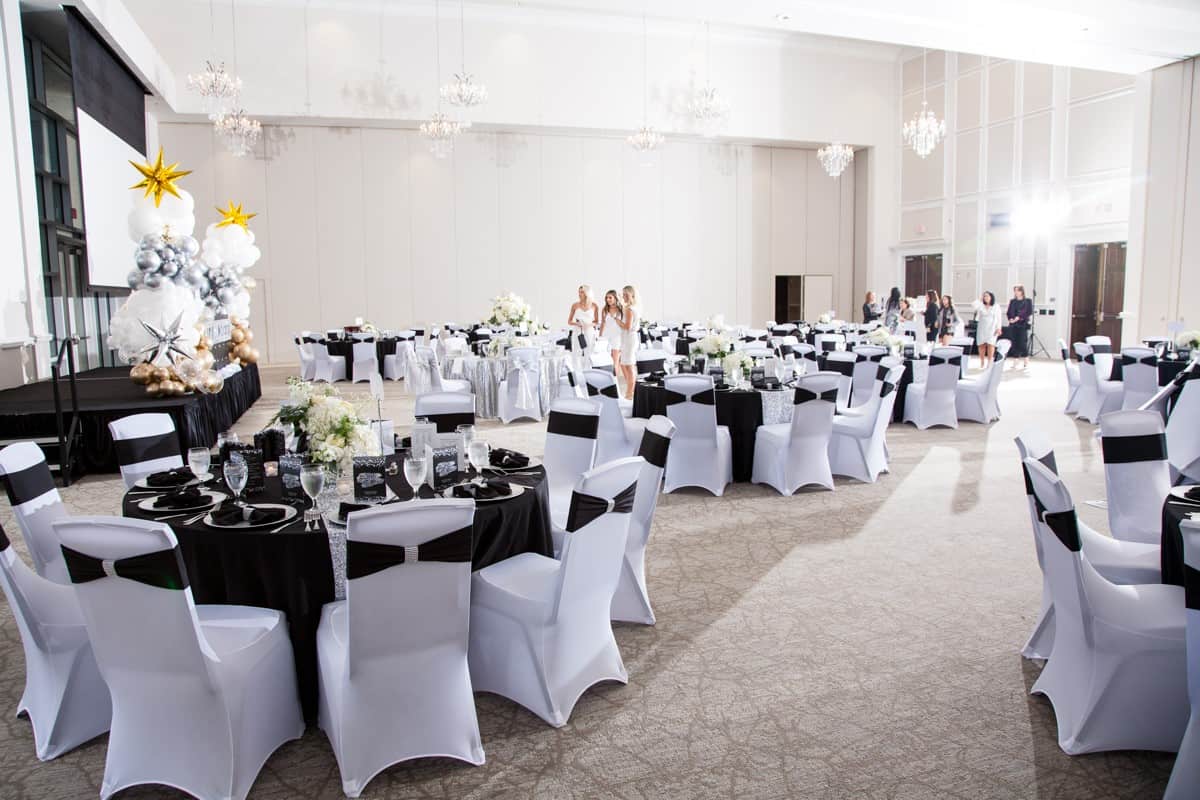 9 Fun Themed Banquet Ideas for Your High School Awards
High school awards banquets are a time-honored tradition for recognizing students' academic and extracurricular achievements. Whether it's held at the end of the season or during graduation time, this special event is one that will be remembered by all in attendance – so creating an exceptional experience should be a top priority for principals and booster clubs.
One way to create an unforgettable experience for attendees is by selecting a creative theme for the event.
Choosing a High School Banquet Theme
This process of choosing a theme for your high school banquet should be fun and collaborative. You may want to get the students involved with suggestions and allow votes to be cast in order to narrow down the options.
When making a final decision, remember that this is a formal event and that your chosen theme should reflect the event's significance.
Themed Banquet Ideas
Here are a few ideas to get the process started:
1. Hollywood Glamour
Transform the venue into a movie set and have your students walk the red carpet. Encourage them to dress up in their best attire for a night of glitz and glamour. Have a couple of volunteer photographers, such as students from the yearbook, acting like paparazzi.
2. Sports-Themed
Showcase the specific sport in which is being honored by decorating with team colors, playing field music, and having sports-related activities throughout the evening.
Having cutouts of the players for them to take home is a fun touch!
YOU MAY ALSO ENJOY: How to Plan an Epic High School Banquet
3. Under The Sea
Create an underwater theme complete with sea creature decorations, fish tank centerpieces, and mermaid or pirate costumes for attendees. 
This is fun with those swim and dive teams!
Here are a few banquets we've hosted!
4. Black & White Ball
Host a formal black tie event with monochrome décor featuring white tablecloths and chair covers alongside black tablescapes and balloons for an unforgettable evening.
This theme works well with any sport or academic event and allows for the personalization of the students to be accentuated. 
5. All-White Party
Making an elegant white canvas of a party helps the stars that the kids are stand out! Even better, ask the students to wear a certain color for all to coordinate, such as white to go with the theme or even a different color for a pop of color in the room.
6. Masquerade Ball
Set the tone with a masquerade ball theme by having attendees don their best masks and elegant gowns or tuxes. 
Theater groups love this one!
7. Space Odyssey
Take guests on a journey to outer space with planetarium-themed decorations, intergalactic centerpieces, and other celestial surprises. 
Academic clubs get a kick out of this!
8. Pop Culture Trivia
Make it a night of trivia fun by playing pop culture games such as Jeopardy or Scene It? Guests can dress in themed costumes for extra points! 
Have the questions related to the stats of the sport or academic being honored that night
9. Alumni Reunion
Celebrate the achievements of past and present students by hosting an alumni reunion. Invite former graduates to come back to the school, talk about their experiences, and reminisce with current students. 
Having alums speak is a great addition to any of the types of banquets.
Following Through With Your Themed Banquet Idea
It's important that once you choose a theme, you follow through with that theme from start to finish.  That means selecting decorations, inviting entertainment that fits the theme, and finding food and drinks to match.
You might want to secure your venue first so you can work closely with their onsite team to ensure a smooth process. 
Find a venue that works closely with schools to help provide the best event possible.
Here at the Bowden, we provide complimentary room rental and discounted food menus, allowing you to spend more on the theme and decor. 
Once you have a venue and theme, the little details will make a big difference. Make the decorations match the theme, for example, all the way down to the table settings. 
You'll also want to have awards match the theme. Even the announcements should match the look and feel you are going for. The more consistent you are with the theme, the more memorable the event will be when it occurs and well into the future. 
Even having little takeaway gifts for the students at night's end can tie the theme together. 
Don't forget pictures of the students participating in the school activities being honored that night. Better yet, highlight the seniors with senior award tables and reserved tables.
Regardless of your chosen themed banquet idea, make sure it reflects your school's spirit while providing an entertaining evening for award recipients and their families. A themed awards banquet is guaranteed to be one that attendees won't soon forget!