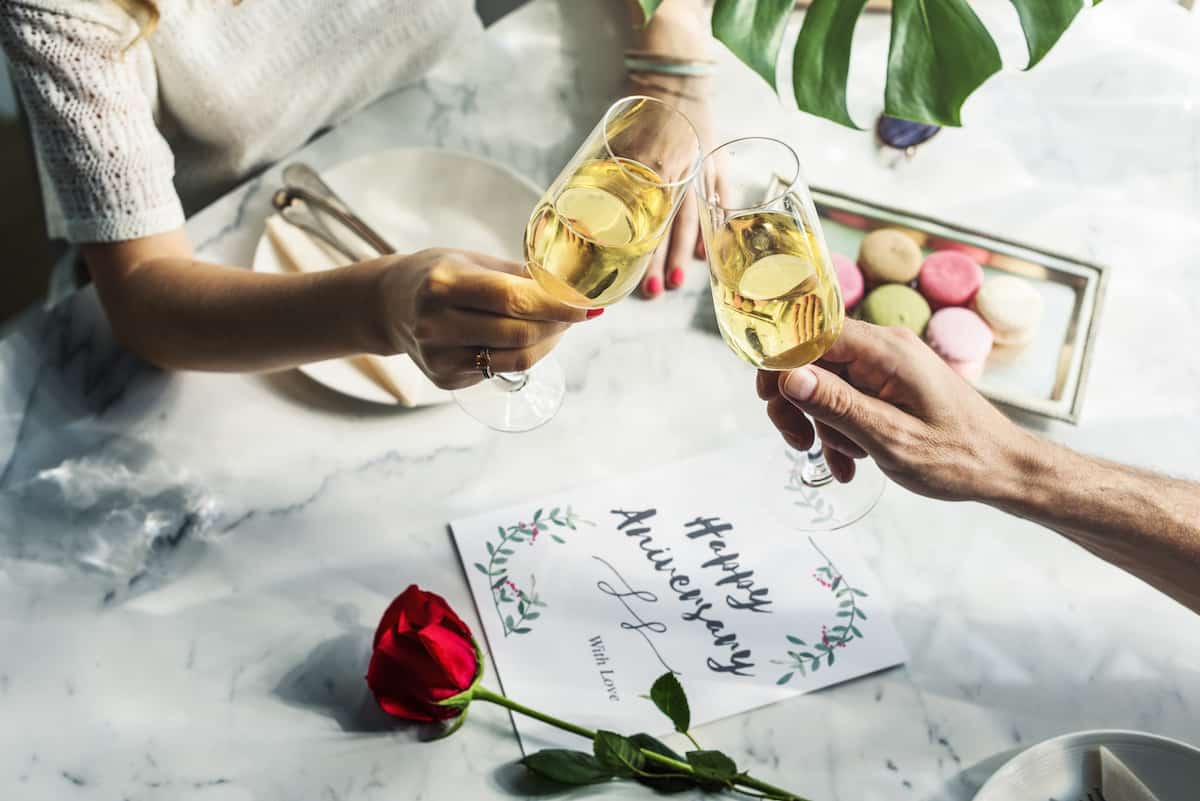 Modern Love: 5 Anniversary Celebration Themes to Honor Then & Now
Whether you're recognizing a milestone anniversary or just want to celebrate your love, your anniversary party should be special and meaningful. Therefore, the theme should be well chosen to represent you as a happy couple, from big decisions to the most minute details.
When choosing a theme for your anniversary, it should represent your past (how you met, your wedding day), the present (where you currently are in life like empty nesters, retirees), and the future you have to look forward to together.
A

nniversary Celebration Themes You & Your Guests Will Love
Here are a few anniversary party theme ideas that are memorable, sentimental, and enjoyable.
1. A NIGHT TO REMEMBER
Do you remember your first date? Your first kiss? When did you realize your spouse was "the one"?
Spend an evening reminiscing your amazing life together surrounded by family and friends.
Some ideas to incorporate into your evening include:
Dance to the song you danced to at your wedding
Recreate your proposal – and retake your engagement photos
Renew your vows
Recreate your wedding cake and or meal
RELATED: Paper To Diamond: How To Throw A Meaningful And Memorable Wedding Anniversary Celebration!
2. LET'S GET AWAY
Turn our ballroom into a tropical getaway, an arctic getaway, or an undersea garden. Whichever best represents you as a couple will be just perfect!
If you've enjoyed cruises as a couple, why not bring all your friends along on the next one. If you can't take everyone on a cruise, you can set up a cruise-like venue complete with a grand ballroom, a buffet meal, and shuffleboard.
The possibilities are endless – just recreate your favorite getaway and invite your friends along. A grand time will be had by all.
3. MIDNIGHT IN PARIS
L'amour – without the price tag. Bring the romance of Paris to our grand ballroom for a truly romantic evening. It doesn't have to cost an arm and a leg to create a genuinely French ambiance, but it could have a priceless Wow! factor.
Stream music from a French radio station and set up a patisserie, and enjoy an evening of wine and pastries. Or kick it up a notch and provide authentic French cuisine for a high-end evening of dinner and dancing, Parisian style.
4. THEN & NOW
When considering anniversary celebration themes, here's a fun one: celebrate the year you were married and make comparisons to the year it is now.
Here are a few ideas:
Create a then and now photo collage or video
Share your favorite foods from when you were married vs. your current favorites
Offer guests the option of dressing in the fashion of the year you were married or in current styles
Play music from your wedding year throughout the evening
Do a then and now trivia game about you as a couple
One way to make the evening special is for the happy couple to share old wisdom but with a modern spin. For instance, "Keep the line of communication open at all times" could translate to "Keep your phone in your pocket so your wife can reach you at all times."
If you want to go more lighthearted, "Don't sweat the small stuff" could be "Still don't know how to fold a fitted sheet? Let it go!"
5. ALL THAT GLITTERS
Gold, silver, and jewels abound! What could be more luxurious than an evening spent celebrating your love with all that glitters?
This is one of the most common anniversary celebration themes. You can find affordable ways to decorate by using vases and other containers you already have and filling them with gold ornaments, metallic streamers, and sparkling confetti. Balloons are always a festive way to decorate, and you can get them in gold and silver to complement the overall theme.
For dinner, consider serving a buffet of gourmet hors d'oeuvres and champagne. If you want to go all out, hire a photographer to take photos of your guests as they arrive. A photo booth is also a fun way to capture memories of your party.
Make it an evening of laughter and memories while you celebrate your continued commitment to each other.
Romance is our specialty here at The Bowden. When you book with us, you also help the less fortunate in our local community since proceeds from every booking go to the Greater Keller Women's Club Foundation to allow for disbursements to local charities and High School Seniors.
Imagine how your love for one another can magnify and help others beyond yourself. It's a beautiful thing. Reach out to book your anniversary party with us for an event to remember!