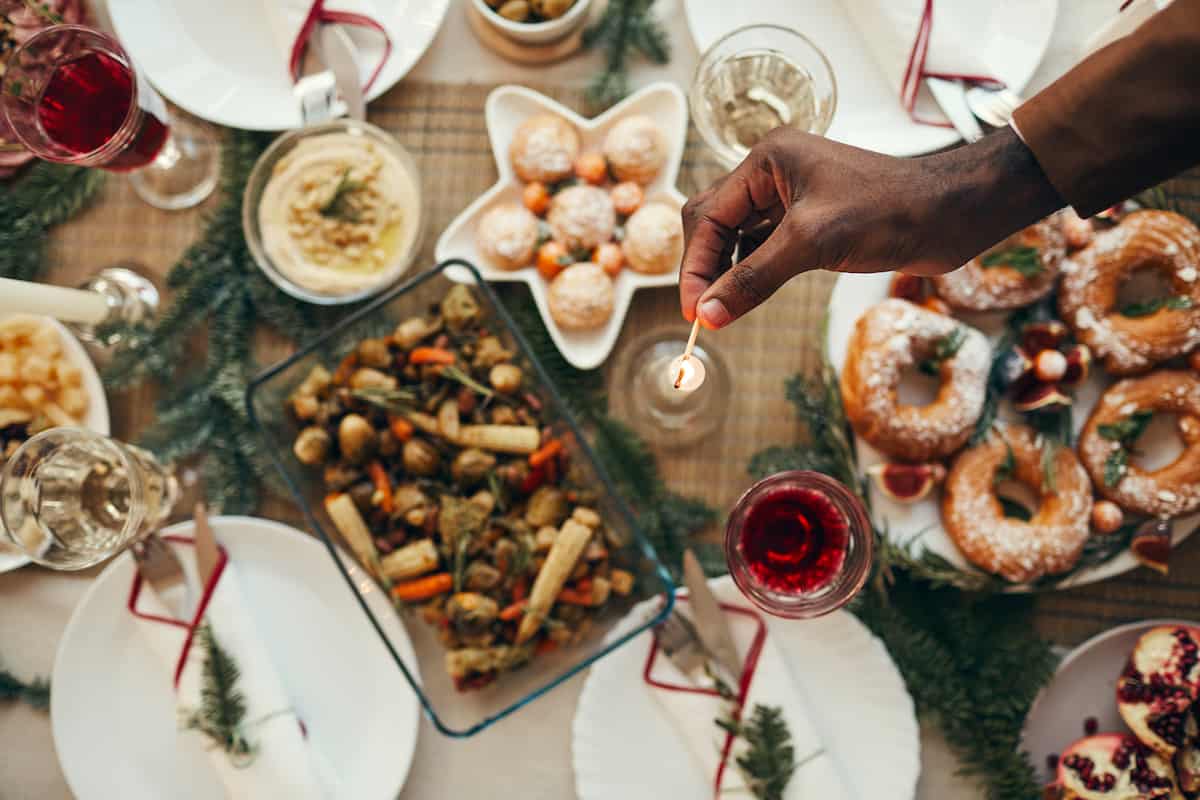 Holiday Feasting with the Team at The Bowden: Delicious Recipes to Enjoy!
As we approach the holiday season, many of us enjoy gathering our family and friends together to share delicious dishes. The team at The Bowden is no exception!
As our gift to you this holiday season, we've compiled some of our favorite traditional holiday recipes that are sure to make your family's festivities even more special this year. From savory main courses to decadent desserts, our holiday recipe collection has something for every taste. So make sure to save room for seconds because these flavorful dishes will be a hit! With that in mind, let's get cooking!
Holiday Recipes from The Bowden
Poppyseed Chicken
Shelly Kitchens, Sales Manager
"One of our family favorites for a Christmas meal!"
Ingredients:
4 skinless, boneless chicken breast halves

1 sleeve buttery round crackers (such as Ritz®), crushed

½ cup butter, melted

1 teaspoon poppy seeds, or more if desired

1 (10.75 ounce) can condensed cream of chicken soup

1 (8-ounce) container sour cream

2 cups shredded Cheddar cheese
Instructions:
Place chicken breasts into a large pot; cover with water and bring to a boil over high heat. Reduce heat to medium, cover, and simmer until chicken is no longer pink in the center, about 20 minutes. Drain; shred chicken with two forks.

Preheat the oven to 350 degrees F (175 degrees C). Mix crackers, melted butter, and poppy seeds together in a large bowl until combined; set aside.

Stir condensed soup and sour cream together in a medium bowl; pour 1/2 of the mixture into a 9-nch square baking dish. Add shredded chicken in an even layer; top with remaining soup mixture. Sprinkle with Cheddar cheese, then top with cracker mixture.

Bake in the preheated oven until cheese has melted and the sauce is bubbly, 25 to 30 minutes.
Banana Bread
David Underwood, Director of Operations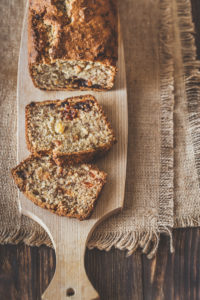 Ingredients:
2 cups all purpose flour

1 teaspoon baking soda

1/4 teaspoon salt

1/4 teaspoon cinnamon 

1/2 cup of unsalted butter

3/4 cup brown sugar 

2 eggs, beaten 

2 & 1/2 cups mashed overripe bananas 
Instructions:
Preheat oven to 350 degrees then lightly grease a 9×5 inch loaf pan. Next, in a large bowl, combine flour, baking soda & salt. In a separate bowl, cream together the butter and brown sugar. Stir in eggs and mashed bananas until well blended.  Then stir banana mixture into flour mix; stir just to moisten. Pour batter into loaf pan.
Bake in preheated oven for 60 to 65 minutes.  Let bread cool in pan for 10 minutes, then turn out onto a wire rack.
Chicken Enchiladas
Heather VanDamem Event Sales & Catering Manager
"We do not do traditional for the Holidays in my family.  We do fajitas and enchiladas here in Texas. Here is the recipe my aunt uses to make the enchiladas."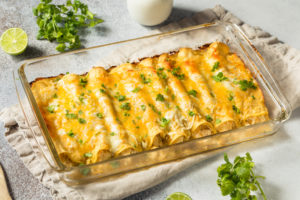 Ingredients:
½ cup chopped green chilis (1 small can)

(8oz) package of cream cheese-softened

1 can of cream of chicken soup

1 tsp coriander

½ cup chopped onion

(4) chicken breasts, cooked and shredded (about 4 cups)

1 package flour tortillas

1 cup of each:  Monterey Jack and Cheddar Cheese (grated)

½ tsp cilantro

(8oz) carton of sour cream
Instructions:
Topping:  Heat cream of chicken soup, (1/2) can green chilis, coriander and cilantro, jack and cheddar cheeses, and sour cream in a double boiler, until hot.  Do not boil.
Mix (1/2) can green chilis, chopped onion, chicken and cream cheese well,  and fill flour tortillas with this mixture.  Top with topping and place in a 300 degree oven for 15 minutes.  Add 10 minutes to oven time if it was refrigerated.  Yields 6 to 8 servings.
Orange Fluff
Kathleen Lopez, Office Manager
"My grandma and mom made this jello salad when I was growing up, and now I make it and put it in my Grandma's bowl that she used to serve it in. My kids and family request this salad every holiday, and the recipe has been handed down to the next generation as well."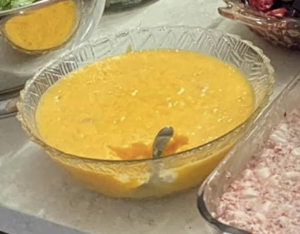 Ingredients:
1 box of orange jello 3oz

1 box of tapioca pudding 3oz

1 box of vanilla instant pudding 3 oz

3 c hot water

1 sm container of Cool Whip

1 can mandarin oranges, drained
Instructions:
Mix jello and puddings with hot water.  Cook on medium heat, constantly stirring until thickened.  Cool.  Add Cool Whip & oranges.  Stir and refrigerate until set.
Filipino Pancit
Erwin Turalba, Executive Chef
"This is my favorite dish because we cook it during the holidays and birthdays.  It's a quick and easy stir-fried rice noodle dish with vegetables and meat.  Pancit is a symbol for longevity (long, happy life) for Filipinos."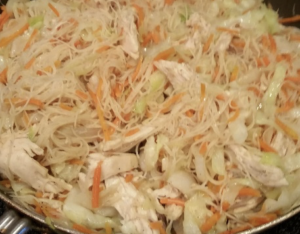 Ingredients:
1 onion, finely diced

3 cloves garlic, minced

2 cups shredded cooked chicken dark and white meat

1 small head cabbage, thinly sliced

4 carrot, julienne

¼ cup soy sauce

 

2 lemons – cut into wedges, for garnish

Chicken stock-optional
Instructions: 
Step 1– Place the rice noodles in a large bowl, and cover with warm water. When soft, drain, and set aside.
Step 2– Heat oil in a wok or large skillet over medium heat. Sauté onion and garlic until soft. Stir in chicken cabbage, carrots and soy sauce. Cook until cabbage begins to soften. Toss in noodles, and cook until heated through, stirring constantly. Transfer pancit to a serving dish and garnish with quartered lemons.
Monkey Bread
Kelly Williams, Director of Sales and Marketing
"Monkey Bread is our favorite Christmas Morning food. I prep it the evening before after Christmas eve service and get up before the kids to put it in the oven. It's a great excuse to break away from the presents once it is ready!"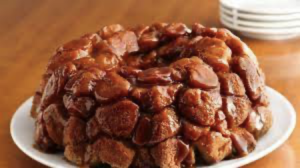 Ingredients:
1/2

cup granulated sugar

1

teaspoon ground cinnamon

2

cans (12 oz) refrigerated Pillsbury™ Flaky Layers Buttermilk Biscuits (10 Count)- or 4 cans of the great value biscuits

1/2

cup butter or margarine, melted

3/4

cup packed brown sugar
Instructions:
Heat oven to 350°F. Spray 12-cup fluted tube cake pan with cooking spray. In 1-gallon food-storage plastic bag, mix granulated sugar and cinnamon. Separate dough into biscuits. Cut each biscuit into quarters. Shake in bag to coat; place in pan. In small bowl, mix melted butter and brown sugar; Half way through the biscuits pour ½ of the Brown sugar and butter over biscuit pieces. Place remaining covered biscuit pieces in pan. Pour remaining mix over the top.
Bake 35 to 40 minutes or until golden brown. Cool 5 minutes. Turn upside down onto heatproof plate; remove pan. Serve warm with a glass of milk!
No holiday feast would be complete without a few special treats. The team at The Bowden has come up with some amazing recipes that will make your family's celebrations even more delicious and memorable this year. We hope you enjoy these recipes as much as we do, and may your table be filled with joy and love! Happy holidays from The Bowden!